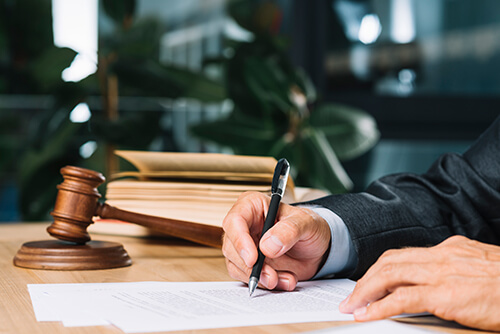 CORPORATE ADVISORY AND COMPLIANCE SERVICES
S&C is serving more than two decades in the business industry by providing corporate advisory and compliance services. Helping the broadening of corporate culture which is leading to the documented economy in the country. Competent corporate professionals of S&C enables its clients to oversee their business as they have rich experience, industry understanding, and problem-solving abilities. In fact, provide detailed understanding and guideline to its specific or all type of clients throughout the Lifecycle of a business project.
Furthermore, S&C, being the corporate advisory and compliance services company has contributed to the incorporation of hundreds of companies which are currently successfully participating their shares towards the economic growth of the country. Alongside we have been consistently providing services for compliance matters with regards to Securities and Exchange Commission of Pakistan (SECP) which will let them do their business hassle-free, due diligence and by avoiding the undue litigation matters with Commission.
More than the above, skills, knowledge, and experience of corporate consultants at S&C give strategic advice and provide specialist competencies which enable clients to achieve their objectives with fulfilling the needs. With our strong knowledge and hands-on the prevailing Companies laws in Pakistan, work with clients to solve various issues, create value, maximizes growth and to improve overall business performance. S&C is a well-reputed firm of Corporate Services Providers. Hence, they are focusing on providing multiple corporate advisory services that are enlisted below.
Registration/ Incorporation of Commercial Companies
Various organizations around the whole country must avail the corporate services for the growth of their business. Corporate services manager at S&C is highly professional to provide personalized assistance to their valued clients. We help our clients in the documentation, procedure, and confirmation from Securities and Exchange of Pakistan (SECP). Also, provide support for the registration of a company or business with the Securities and Exchange Commission of Pakistan (SECP).
Moreover, we also support our clients in the step of correspondence, presentation, hearing, or replying to the Securities and Exchange Commission of Pakistan (SECP). We help in this step for the removal of observations issued during the incorporation or registration of the company.
Registration/Incorporation of NPOs & LLPs
Other than the commercial companies, S&C helps the Non-Profit organizations (NPO) or Non-Government Organizations (NGO) to obtain the license from the Securities and Exchange Commission of Pakistan (SECP). Also, they give support to organizations in giving the replying or presentation to SECP for the removal in the occurrence of any issue during the license obtaining the procedure. Not only has this, but S&C also proceeded procedure of license renewal.
S&C also supports Limited Liability Partnerships (LLPs) to accomplish the complete procedure of registration incorporation.
Permission/Approval for Foreign Companies
Various business sectors of the economic industry can perform their relevant activities only by getting the license from the concerned regulators. Therefore, the license is important for businesses as it ensures that the organizations are accountable to perform some specific actions. Therefore, S&C being the corporate organization helps the firms to obtain the license. Also, helps the organizations to obtain the license from different regulators like PTA, DRAP, OGRA, etc. as per the requirements of the business.
Organizations have to follow annual legal compliances. So S&C's corporate advisor and compliance services manager helps their clients and other businesses to proceed mandatory annual compliances. In providing the support for annual compliances, S&C's corporate members manage the annual return of companies having no change of particulars since last annual return filed with the registrar, share capital, and companies not having share capital. Further, the annual return of inactive companies and receipt for subscription money is also managed by S&C.
Organizational Change in Constitution
Business growth demands various changes within the organization. So, the corporate services provided by S&C help their valuable clients to proceed with the application procedure for conversion of company status. Also, handle the application for approval of alteration in Memorandum & Articles of Association from the commission.
Furthermore, S&C's employees possess the abilities for the filing of altered memorandum and articles of association. This process will be proceeded after receiving the approval for conversion of company status from the commission. Even, petition for the alteration of the memorandum is also managed.
Shares Management and Capital Documentation
Documents for the increase in authorized capital and paid-up capital
Return of allotments of shares
Change of more than twenty-five percent in shareholding, membership or voting rights
Registration/Vacations of Mortgages, Charges, or Pledge
Registration of particulars of mortgages, charges, pledge, etc., to be maintained by a company
Particulars of mortgage or charge subject to which property has been acquired
Modification of mortgage, charge, pledge, etc., for various particulars
Complete satisfaction of mortgage, charge, pledge, etc., for memorandum
Companies' Global Register of Beneficial Ownership
Notification of particulars for beneficial ownership to the company.
Return containing substantial shareholders/ officers' particulars for companies' global register of beneficial ownership
Active/Inactive Company Status
Application to obtain the status of an inactive company.
Application for conversion of status from inactive to active company
Filing for amalgamation scheme
Notice for dissenting shareholders
Information to be furnished in relation to any offer of a scheme or contract involving the transfer of shares or any class of shares in the transferor company to the transferee company
Management for Nominee Changes
Notice/Application of appointment or change of nominee or change in his particulars (for a single-member company only)
Filing of Financial Statements
Filing of financial statements/audited accounts/unaudited accounts to the Securities and Exchange Commission of Pakistan (SECP)
Winding up /Deregistration of Companies
Winding up of companies under easy exit schemes
Striking off registered company name from company registrar
Company Secretary/Secretarial Services
Providing secretarial services to companies, businesses, or organizations
Services as share registrar for listed companies
Appeals and hearing before the commission
Opinions and Advisory over the corporate affairs on applicable provisions of the Corporate Laws including Companies Act 2017, Limited Liability Partnership Act 2017 and other Corporate Laws
Handling Corporate Litigations/Adjudications with Commission
Handling/Pleading of showcase notices issued by SECP
Appeal for a waiver of penalties if imposed by SECP
How S&C Helps in Corporate Advisory and Compliance Services?
S&C ensures the provision of advisory, financial services, and regulatory compliance service in Pakistan with the corporate services for the successful progress of the business. In executing the assignment, we examine the client's status, strategy, structure management, and operations to identify options that the client may adopt to achieve various objectives and to put forward recommendations on how specific desired results may most efficiently be achieved.
As the assignments vary in scope, type, length, and details. So, depending upon the client's requirement, we can involve an individual consultant or a team of a consultant to fulfill the requirements of the clients.